The Irish Radio Hour is on every Sunday on AM 690 from 1:30 - 3:00pm. Hosted by Kathleen O'Neill, WNZK, AM 690, 1:30-3 p.m.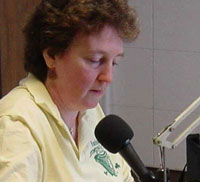 LIVE broadcast at: www.birach.com. Click on WNZK live and you can listen to it as it is being broadcasted.

The program is a combination of Irish music, news, and announcements. Occasionally, we have guests in the studio (mainly local musicians and representatives from various Irish organizations). Also, we have had call-in interviews from internationally known entertainers who may be appearing in the Detroit area. Regularly, a few individuals call-in with news from Ireland including sports results.
We also acknowledge events such as anniversaries, birthdays, and deaths which occur weekly. The music varies depending on the events taking place in the community. We feature local artists, events, and entertainers appearing in the vicinity. Sometimes, we have ticket giveaways in which listeners can call in and receive tickets to upcoming events.
Once again, the music varies. Traditional, ballads, and celtic rock have all been heard. I usually have a theme so that there is some cohesiveness. For instance, last Sunday's show was the "ups and downs" of Ireland - namely its hills and mountains. So every tune had hill or mountain in its title. It's one way to play a variety and allow all the listeners to hear something they enjoy (our listening audience tends to be 30yrs. old and older with many age 60 yrs. or more). I usually play 11-15 tunes a show.
I also try to play tunes from different spots in Ireland for the sake of the diverse listening audience. This past week we heard from 3 local artist, one singer who will be in concert in Detroit soon, and some internationally known entertainers including Noel Henry's Irish Showband, the Fureys, the Wolfetones, John McDermott, Phil Coulter, and the Rankin Family (for our Nova Scotian listeners).
I'd enjoy hearing some feedback. You can e-mail me directly at gaelicleague@aol.com.
Kathleen O'Neill
Irish Radio host
Last Updated: 24-Oct-2004
LIVE GUESTS, October 2002

Guests performing live at the station; Asher Perkins, Carsten Applegate, Síobhan McKinney, Allison Perkins. Below: Jim and Cheryl Perkins at WNZK