SOUND FILES
Harp, Fiddle, Uilleann Pipes and Whistle:

Eibhlí Gheal Ní Chearbhall (2.4Mb)
(Bright and Lively Evly O'Carroll)

Planxty Irwine
A 17th century Irish harp piece written Turlough O'Carolan (1670-1738). Played here with low whistle, fiddle and harp. The piece was composed for Colonel John Irwin (1680-1752) of Tanrego House, which is situated on Ballysodare Bay, County Sligo.
HARP SOLOS
A reel and a jig recorded live at the the 2005 Irish harp competitions. Síobhan has won the All-Ireland Harp Champion most recently in 2007.

The Longford Tinker (1.6Mb)
A very lively reel closely related to the more familiar Scottish reel "Jenny Dang the Weaver"


The Mooncoin (2.5Mb)
A jig named after a village in Co. Kilkenny. Mooncoin is from the Irish "Con's bog".
UILLEANN PIPES
Excerpts of Terence on uilleann pipes, from a recording with the group Blackthorn:

She Moves Through the Fair (1Mb mp3)


Dirty Old Town (2.6 Mb mp3)
HIGHLAND PIPES


The Jolly Beggarman.
A lively tune on the Highland pipes and a great choice for a recessional.
(1.4Mb jolly_beggarman.mp3)
• View Movie of Síobhan after winning All-Irealnd from Fox 2 News, Sept 2003 (820k)
Home | The Instruments | The Musicians | The Bagpipes |
Traditional instrumental Celtic music for wedding ceremonies or other special occasions in the metro Detroit area. We usually play as a threesome on the Irish uilleann pipes, Celtic harp, fiddle, bouzouki and whistles and have performed and competed here and in Ireland, Scotland and Canada. We play the very finest Irish and Scots traditional melodies...marches, airs, jigs, reels, hornpipes and waltzes. Terence has been playing pipes over 30 years. Mairead won at competitions for trad Irish music in St. Louis in April 2007 on bouzouki.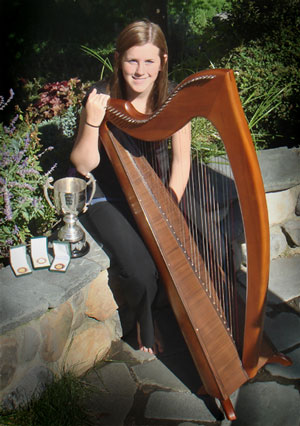 Siobhan McKinney (age 15) won her third All-Ireland Championship on the harp in August 2007 in Tullamore, Ireland and has been teaching harp since age 11.
The McKinneys have played just about every type of ceremony and demonination. If you don't know a jig from a reel, don't worry...we have posted some lovely tunes that we have found work very well at wedding ceremonies. The names of the tunes and translations from the Irish language are also provided.
Here's what we do for traditional wedding ceremony:
We play in addition to the church's organist/singer or can do all the music.
Play for approx 10 minutes before the ceremony as people get seated.
Play a tune for the Bridesmaids (Planxty Irwine)
A march with the uilleann pipes for the Bride (Eibhlí Gheal Ní Chearbhall)
A short piece for the unity candle or other interludes.
Finish with a set of lively, upbeat jigs for the recessional until the chapel empties.

Perhaps the occasion is best suited to having a kilted bagpiper playing the Highland pipes. In any event although this may be a first for you, but we've done this many times and will provide memorable music in the Celtic tradition.
---
Home | The Instruments | The Musicians | The Bagpipes |